Poetry Contest Entry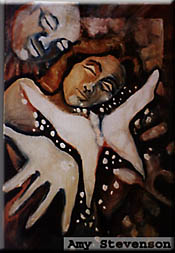 Artist - Amy Stevenson
© Amy Stevenson



My Life, My Fate
~By EastTnMtnMan
Life goes on, if not by fate.
My life on earth, I fear too late.
My mind is bound in chain,
but no one will see nor feel my pain.
I travel this road of my own choice,
empty tears without a voice.
My prison, my life, the distance I keep,
is for me to know, not for you to weep.
My existence is mine and mine alone.
It's no ones fault but my own.
I care, I feel, but know not how to express,
but these things I know, nothing more or less.
My sins of life I do not deny,
for in myself I see, but cannot cry.
Life goes on, if not by fate.
Alone I must be, for my own's sake.
I want not your sorrow, your pity, or strife.
Loneliness, darkness, despair is my life.
Don't worry, Don't fret.
These things of me, I do accept.
I'll be ok, I'll be alright.
Because, tomorrow I know, brings new light.
It's not death I wish to end my being.
It's my plight, not for the world to be seeing.
A sigh, a tear, I wish I could feel,
but that's just me, someday I may heal.
Life goes on, if not by fate.
Release me, let me go, please don't wait.

Comments: Just a poem i wrote after the breakup of a relationship I had. For some letting go is hard to fathom, especially when the reasons why is hard for them to understand. Being able to let go because you love them is a hard thing to do even when its for the best.
---
If there are any problems with this page, please email us the error. Thank you.