Poetry Contest Entry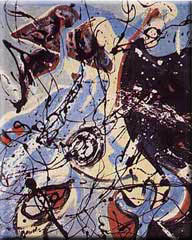 Artist - Jackson Pollock
© Barewall.com



Forever In A Day
~By MTabek
There is a pain
More real than any physical
Wound could make.
A pain unhealing that lives
Forever within a word.
She haunts your dreams,
Becomes the spectre evíry
Time you close your eyes
Forever,
Forever,
Always there.

Yet after this
Has made its course
Through me
I will have been reborn
My pain is gone
And in that place will
Be what I have longed
What I have searched for
All my life.
With this now, my soul
Shall rise,
Rise up to the heavens.
And in the darkness
A Light shall shine
Forever,
Forever.




---
If there are any problems with this page, please email us the error. Thank you.