Poetry Contest Entry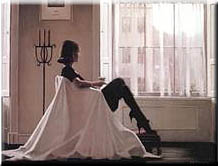 Artist - Jack Vettriano
© Art.com



An Empty Smile
~By Windigo
An empty smile is all I can afford today my friend.
Iím in need of a heartfelt hug, and some meaningful words,
If you have these things to lend.
I inquire about your day and comment on the weather,
Pretending as though I care.
Followed by these empty words comes a cold and distant stare.
Today feels so hollow. I contemplate whether or not I like this numbed state.
But I am grateful for the break from such feelings which I hate.
And so I give this empty smile which I almost couldnít bare.
An empty smile followed by a cold and distant stare.




---
If there are any problems with this page, please email us the error. Thank you.