Poetry Contest Entry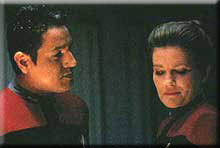 Artist - Paramount.com
© Paramount.com



Forbidden By Rank
~By TTT
Though rank divides us,
And species segregate us,
Love, a power stronger then this ship binds us.

Protocol forbids it,
Regulations deny it,
But we kindle it.
Love.

A joining, that greater powers deny,
Although my commission, may come to exempt
We canít toss our troubles to the sky,
Itís just something, the brass will have to accept
Captain, what do we do?




---
If there are any problems with this page, please email us the error. Thank you.