Chris Achilleos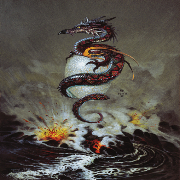 Chris Achilleos
was born in Famagusta, Cyprus in 1947. His mother was widowed with a young family moved to England when he was 12 in 1960 after his father died. Chris found an outlet from the discontent living in England by turning to drawing. He copied characters from his comic books, sketched them onto large sheets of paper he would receive from the butcher or wallpapering shops. Then later he becamse inspired by films such as "Lawrence of Arabia and Ben Hur" using them as an escapism to fill his creativity and void.
Chris went to school in London and attended the College of Art at Hornsey College in 1965, where he studied technical and scientific drawing. Not finding his feet in that field he then at the age of 22, decided to concentrate on fantasy art. Since 1969, Chris Achilleos has become a foremost fantasy illustrator, designing primarily book jackets which feature science fiction and "Sword and Sorcerer" tales. He lives in London and is married with two children.
Frank Frazetta was a huge influence and hero to Chris and Frank's 'Conan the Conqueror' became the stepping-stone into the fantasy art Chris had set his eyes on. 1975 was the year Chris found his recognition as a fantasy artist with art directors taking notice.
Chris's works have covered the books of Edgar Rice Borroughs, Micheal Moorcock, Robert E. Howard, J. R. R. Tolkien and many others, with the film industry always not far from his mind working with Ray Harryhausen, Ron Howard and George Lucas. He has designed posters for SuperGirl, Bladerunner and 'the Protector' and also producing concept designs for the films Willow and Heavy Metal. Chris has also published his own books Sirens, Beauty and the Beast, Medusa and Amazona.
Chris's artwork comprises of Doctor Who, some great Star Trek art work, Amazon women with wild beasts giving you the feel of the feminine side of heroism and a quite a few fantasy pieces. He has a keen interest in films and their characters. Chris has had many articles and interviews from magazines such as Dr Who Magazine, computer video games and Heavy metal just to name a few.
Chris paints by daylight religiously and takes about one to four weeks per picture. He works by commission only. He draws from photographs and visual sources. He works his pictures with pencil roughs then turning them into ink drawings, fabric dyes and watercolors and finally using an airbrush for the finished process. He prefers using the medium of acrylics on canvas when working on large heroic pictures.
Through interviews Chris Achilleos has admitted that his heroes are born adventurers living by their wits, fighting for right although they may not be aware of it. His beasts apprear human for he says that an effective monster is something you can relate to and finally that his women are larger than life than his other creations, pure fantasy and as perfect as possible.
Biography by Kimba
Works Cited and Consulted:
Chris Achilleos Website
Christ Achilleos Biography